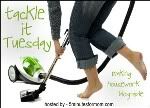 OK, this is my first "Tackle It Tuesday" post. It was a pretty long day school-wise, so I chose something small but important to tackle today…
Having a toddler definitely makes keeping my flat surfaces cleaned up, especially when they are surfaces that he can not (yet) reach. Hence the mess you see above. This is our place to put things we don't want Joey to get into entertainment center. It tends to collect many random items not related to entertainment whatsoever – empty snack packages, toys, nail clippers, pens, pencils, etc. It usually is not a fun area to clean. It's black, it collects lots of dust. The surface in front of the tv is where we place snacks for Joey when we don't want to put him in his high chair or booster and he wants to graze. It's constantly in a state of disarray.
I removed all the random items and threw them away put them away. Then I removed all the extra dust with my microfiber duster. Then I took furniture polish to all the surfaces and cleaned the tv screen and electronics surfaces with window cleaner. Then I arranged all the items that actually belong there into a more pleasing configuration. This is what it looked like when the job was done:
In case you didn't notice, I even burnt a vanilla incense stick to make it smell nice!
What did you tackle today?
Blessings,
: ) Cassie