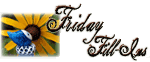 1. Pickles are absolutely necessary on a good burger.
2. When it's cold outside, I'd rather be at home.
3. The snow is sooo 2009.
4.  As long as it's warm, I am totally at home in nature.
5. It's 5:16 PM; that means I should definitely be done with lessons by now.
6. A free housekeeper/personal chef is hard to find.
7. And as for the weekend, tonight I'm looking forward to going to bed early, tomorrow my plans include school makeup day and Sunday, I want to have a romantic dinner with my hubby!
Blessings,
: ) Cassie